Maine Wilderness Camps is nestled in the wilderness and unspoiled forest in the northeast corner of Washington County surrounded by mountains, lakes, streams and trees.
A short 3.8-mile drive down our well-maintained private camp road will take you to the northern shores of Pleasant Lake. Apart from our property, the remainder of Pleasant Lake has been preserved in its wilderness state by Wagner Lumber Company.
With only a short quart-mile portage out of Pleasant Lake, the entire Grand Lake Chain opens with more than forty miles of wilderness waterways.
For the "get away from it all" vacation, you can get to know the real outdoors while relaxing with your family and friends. After a full day of swimming, fishing, hiking and canoeing, you can sit by the fire, watch the spectacular sunsets and enjoy the tranquility of the moon rising over the lake while being serenaded by the loons singing their evening song.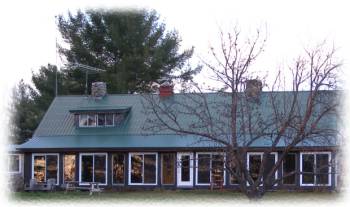 Kindly refrain from calling November 1 to May 1 due to a lack of cell service.